Miller's Smorgasbord: Another Option for Group Dining in Lancaster PA
It started in 1929 when Anna Miller served chicken & waffles to truckers as her husband repaired their rigs. It was a simple dish, but it was always served up with a smile. Today our tried & true recipes may not be as simple, but they are prepared with the freshest ingredients…and they are still served up with a smile.
Buy local. Cook from scratch.
At Miller's, we cook from scratch and prepare meals that you want to tell your friends about. We get supplies like sweet corn, tomatoes, watermelon, cabbage,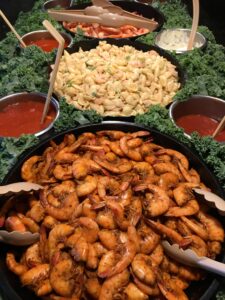 broccoli, squash, peppers and onions from Amos, Ben, Manny and Elmer, our Amish neighbors whose farms surround our restaurants. We're PA Preferred, AAA Recommended, Reader's Choice and ServSafe Award Winners.
Miller's Smorgasbord is great for groups due to its large dining space and huge smorgasbord with so many options. Plus, there are several retail shops specializing in Lancaster County made items on property. And plenty of bus parking. Did we mention it is just minutes from Sight & Sound and American Music Theater. For group reservations, place your request here. Miller's is Lancaster County Smorgasbord Group Dining at its finest.
Get the whole story at Millers1929.com
Family Style Dining for Groups of 20 or More